Welcome to the Grimm Fairy Tales Wiki
Welcome to the Grimm Fairy Tales Comic Wiki. This site is dedicated to Zenescope's Grimm Fairy Tales and its direct spin offs: Myths & Legends, The Piper, Inferno, The Library, Grimm Universe, Bad Girls, The Dream Eater Saga crossover, Sinbad crossover and any others that are direct spin offs of the Grimm Fairy Tales. If you want to help out, feel free, but read the rules first. As of today, June 14, 2021, this wiki contains 1,018 articles and 3,476 images.
Sela • Belinda • Baba Yaga • The Dark One • Blake • Bolder
Article of the Month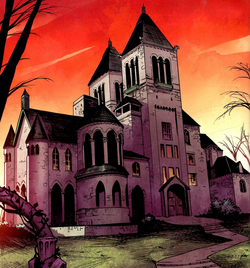 Arcane Acre is the school where Sela Mathers, Shang, and Belinda have taught students since about a year after the events from the Realm War were fixed. Students include Sela's daughter, Skye Mathers, the current Mad Hatter of Wonderland, Violet Liddle, a water nymph from Neverland named Hailey, and Wulf and Ali both of Myst.
There is a graveyard near the school that is considered to be the most haunted place on earth, something that the skeptical students had a hard time believing when Shang told them. Wulf and Violet's desire to prove it wrong almost got all five of them stuck in eternal nightmares.
For Belinda it is a chance to start over once she is taking definite advantage of and enjoying the chance to help people rather than hurt them, but the lack of belief from others still has the power to hurt her.
Character of the Month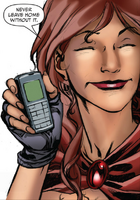 Belinda is Sela Mathers' former arch nemesis. She began working for Malec and Dark Horde after the death of her husband and disappearance of her son. She was behind the deaths of many and the turning of many more to the Dark Horde. The Innocent gave her a change of heart when she told Belinda that her son was still alive, rather than dead as she had believed all these years.

It wasn't an easy switch for Belinda to make. She was killed in the battle with The Dream Eater protecting Pots so that he would have the time to do what was needed to defeat the Dream Eater.

She was later brought back to life by the Being for some unknown reason. After the initial battle with him, she went to where Sela's daughter, Ilys, was living and helped take care of her while Sela was unable to be around. Over that time they became close and when Ilys decided that she wanted to change her name to go with her new life, she asked Belinda what she would have named a daughter had she had one.

She now works with Sela and Shang teaching young highborns to use their powers including Ilys, who now goes by the name Skye.
Issue of the Month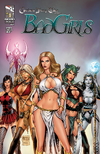 What happens when the most evil and powerful female characters in the Grimm Universe join forces? You'll find out in this new miniseries that brings together an all star cast of girls that were born to be bad. The Mistress of Limbo has gathered together a team of allies from across the four realms of power. Will anyone be able to stand against the united power of Baba Yaga, the Goblin Queen and the Queen of spades? Don't miss the baddest series in the history of Grimm Fairy Tales.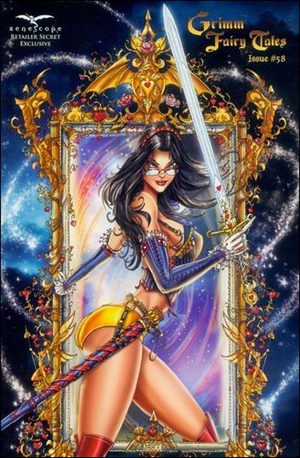 Recent Uploads
Quote of the Month
"You think I'm beautiful just like this! So can you for two seconds accept yourself as the cute little lion man you are?"
— Mary
Video of the Month
Poll of the Month
Last time 10 voted, 50% of you think Shadowlands - Hunters was the Unleased mini-series you were most interested in seeing.

This is the first poll on this site.
Community content is available under
CC-BY-SA
unless otherwise noted.