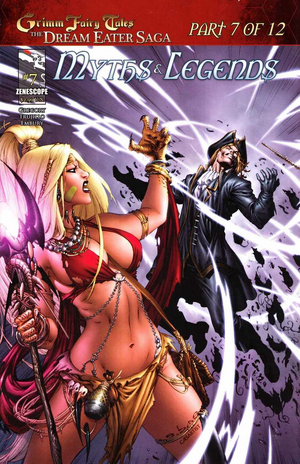 Myths & Legends 7
Publication Details
Series Title:
Myths & Legends
Story Arc Title:
The Dream Eater Saga
Release Date:
July 27, 2011
Digital Release Date:
February 8, 2012
Issue #:
7
Story Arc Issue #:
7
Story Arc Volume #:
2
Myths & Legends 7 is issue #7 in The Dream Eater Saga. It is also issue #7 in Myths & Legend.
Summary
The amazing Dream Eater crossover event continues! Evil and good team up as Baba Yaga and Samantha go in search of the one weapon that might give them a chance at defeating the Dream Eater. But not only is the weapon in a different dimension, it's in a different time and letting there will only be half the battle. The Dream Eater is coming for everyone and there is little time to stop him. Don't miss part 7 of the incredible Grimm Fairy Tales crossover event!
Person, Place, or Thing
Gallery
Covers
Previews
Ads
Notes
Cover C is too racy to include uncensored on this site. It is the "Naughty" version of Cover B and also an SDCC exclusive. It was limited to only 100 copies.